Baking can be fun, especially if you have the right baking tools and recipes. The baking pan is our favorite tool, be it for making some yummy pizza, chocolate chip cookies, or roasting vegetables this thing always comes in handy.
As adaptable as they are, baking pans are equally prone to nasty and stubborn stains. No matter how hard you scrub, sometimes baking pans stains and grime appear impossible to get rid of.
Stains and stuck-on food on your pans and bakeware might ruin the flavor of your other food items if left untreated. Nevertheless, with little elbow grease and some easily available household product you can get rid of all those stains within 5 minutes.
Materials Needed
Non-abrasive nylon scrubber
Steel wool
Warm water
Possible Method-specific Materials Needed
Baking soda
White vinegar
cream of tartar
Hydrogen peroxide
Knowing the Material of Your Baking Pan
Make sure you understand the material of your baking pans before learning how to clean them. Here we have mentioned some methods with which you can clean your baking pans but employing the wrong approach will destroy the finish on your aluminum or non-stick pans. Using the wrong method might even add rust to your otherwise good-conditioned pans.
| | | | |
| --- | --- | --- | --- |
| Methods | Aluminized steel | Aluminum | Nonsticky |
| Baking soda and Hydrogen Peroxide | Yes | No | No |
| Baking soda and vinegar | Yes | Yes | Yes |
| Ammonia | Yes | No | No |
| Aluminum foil | Yes | No | No |
| Washing soda and cream of tartar | Yes | Yes | Yes |
| Water and Baking soda | Yes | Yes | Yes |
How to Clean Baking Pans in 5 Minutes?
Cleaning your baking pans once you have the necessary equipment and understand the material of your pan will not take more than five minutes. Below mentioned are some tried and tested methods.
Cleaning With Baking Soda and Hydrogen Peroxide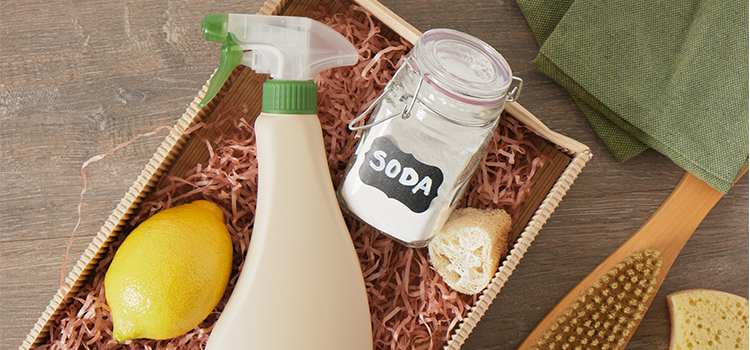 Hydrogen peroxide (bleach) is a powerful oxidant and mild acid. It works well on bacteria, fungus, and spores, as well as protein and plant-based stains. It's great for scrubbing, neutralizing odors, and dissolving grease into a water-soluble compound. These two make a perfect combo for cleaning grime from our baking pans too.
Steps
In a small bowl, combine baking soda and hydrogen peroxide in a 1:1 ratio to make a paste.
Spread the paste evenly over the surface of the baking pan
Let it remain for 2-3 minutes
Get your Nylon scrubber
Scrub any leftover residue away with a nylon scrubber
Then thoroughly clean the pan with dish soap and warm water.
Cleaning With Baking Soda and Vinegar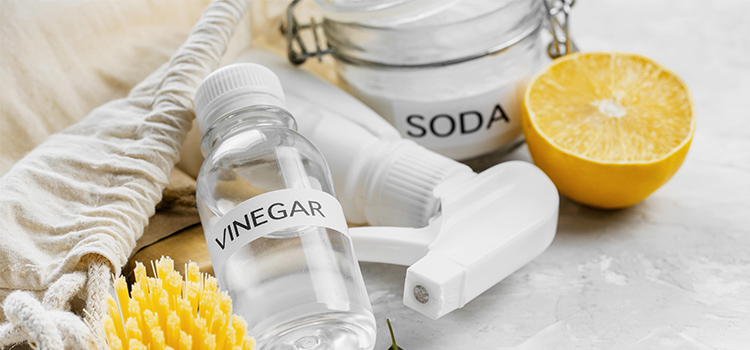 Two most commonly available products in our kitchen. They are very effective in removing grime, disinfecting surfaces, and leaving spaces shiny and clean. This method is suitable for all three materials aluminized steel, aluminum and non-stick pans
Steps
Mix 1 part baking soda with 1 part vinegar (start with 1/4 cup).
Pour the baking soda onto the tray and evenly distribute it.
Now add the vinegar to the tray and wait for the ingredients to react.
Submerge the tray in a sink of boiling water.
Allow 2-3 minutes for the sheet to soak.
Remove from the water and wipe away dirt and grime with a non-abrasive sponge or microfiber cloth.
Use any dish soap and water to clean the pan lastly.
Cleaning With Ammonia
Ammonia is quite inexpensive and can be used alone or in combination with other household cleaners. It is ideal for cleaning glass, stainless steel, and porcelain because it leaves no streaks. It's also great for getting rid of baked-on grease and grime.
Steps
Fill a spray bottle halfway with ammonium hydroxide (such as an empty dishwasher or soda bottle) Ammonium here refers to diluted household ammonia.
Fill the remaining with warm water and give it a good shake.
You can directly apply this mixture to stained pans.
Spray in heavy amounts and cover the pans.
Leave it 2-3minutes
With the help of steel wool or scrubber rub the surface
Finally, rinse with water and again clean it with dish soap
Washing Soda and Cream of Tartar
Washing soda is similar to baking soda and in case washing soda is not available baking soda can be used too. cleaning tool identical to baking soda. Just remember to use gloves when handling washing soda because it might irritate the skin. Cream of tartar is an essential baking ingredient that you most likely already have on hand. This approach is safe for aluminum, aluminized steel, and non-stick all three types of pans.
Steps
Sprinkle washing soda and cream of tartar onto the baking pan.
Pour a small amount of hot water on top of the pan
Mix ingredients into a paste.
Spread the paste evenly across the pan
Let sit for 2-3 minutes.
Scrub stains with a non-abrasive scrubbing pad.
Wash paste and dirt off the pan with water and soap.
Water and Baking Soda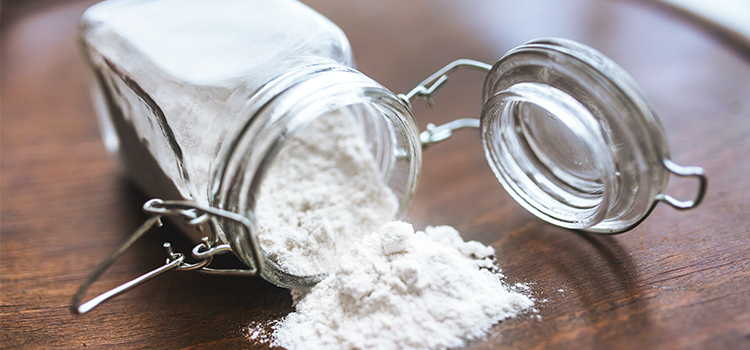 Baking soda is gentle on pans and won't damage or stain them. Aluminum, aluminized steel, and non-stick baking sheets can all be used with this method. This method is suitable if the greases or stains are not so deep.
Make a paste with baking soda and a few teaspoons of clean water in a small bowl.
Apply the paste evenly to the baking pans and leave for 2-3 minutes.
Scrub using a nylon pad, sponge, or brush until the area is clean.
Finally, wash the pan with dish soap and warm water
Repeat the process if the stains are still visible
Tips for Maintaining the Baking Pan
To begin, line your pan with aluminum foil or parchment paper to prevent huge messes.
To keep your pan from rusting, lightly coat it with oil.
To reduce bacteria build-up and rusting, dry pans quickly after washing.
Hand-wash your pans as soon as possible after each use.