Outdoor rugs are specially made to enhance exterior spaces like patios, decks, and porches. Since outdoor rugs are placed outside, they are automatically subjected to sun, rain, and critters.
On top of that, backyard parties and get together are the reason for tough spills, footprints, and stains. People are not cautious enough while dealing with exterior rug as much they are with the interior ones.
So, it is mandatory to give elite supervision to keep it spotless. Neglecting to clean it periodically results in the grimy buildup which might be tough to deal with in future.
Things To Consider While Cleaning An Outdoor Rug
Do a patch test before applying harsh cleaning methods.
Avoid mixing bleach with other cleaning agents.
Read manufacturer instructions before trying anything harsh on the rug.
Do not lay the rug under the wood floor while cleaning the rug with harsh chemicals like bleach. It can corrode any type of wood flooring.
Use a pressure washer at low pressure. While rinsing the rug with a pressure washer, keep a 1-foot distance from the rug and the equipment.
How To Clean An Outdoor Rug Properly
Exterior carpets are resistant to water, dust, spills, and dirt since they are made of polypropylene and synthetic materials. Therefore, it's low-maintenance and needs minimal attention.
It's necessary to clean it often to make it durable and stainless. Your outdoor rug should be cleaned much like an inside rug or carpet. Here's how to accomplish it.
Shake or Beat off Debris On The Outdoor Rug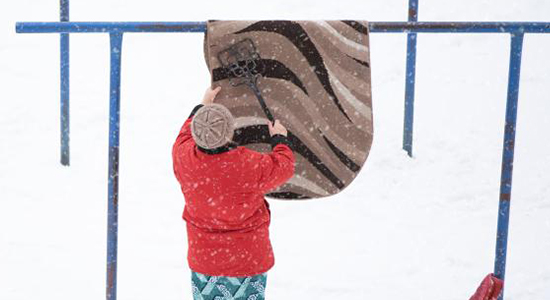 In case the rug is not attached to the floor. You can eliminate dust and debris from the carpet by shaking it. Make sure to wear a proper mask and google to prevent dust particles from entering your eyes and mouth. Hold onto the corners of the rug and vigorously shake it to force out the dust attached to the rug. This will help to prevent dust build up in the carpet.
If your outdoor rug is too big to shake, you can hang it over a railing or a fence that can hold the weight of the rug. Utilize a broomstick or any sort of stick and hit it to release the dust and debris from it. Be sure to beat off both sides of the rug.
Brooming The Excess Debris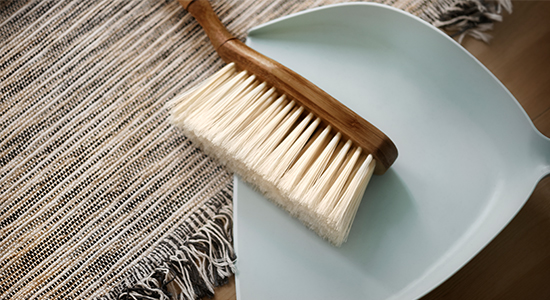 Even after shaking you can still spot dust particles on the rug. Using a handheld soft-bristled broom, you can eliminate leaves, pet hair, dust, and dirt. Apply more pressure than you usually would while sweeping them off. Accumulate the dust in one place and throw it away.
Vacuum the Rug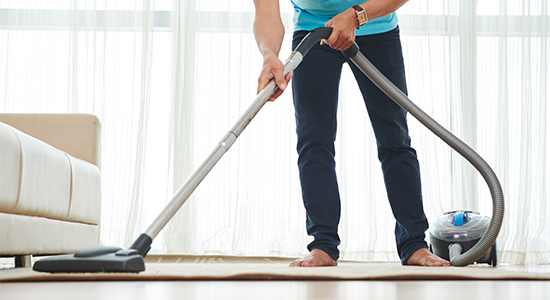 Even though it is not very necessary to clean the outdoor rug with a vacuum cleaner. You can utilize it to get rid of leaves, pet hair, and other debris. Vacuum the rug weekly to maintain the carpet.
Power Wash it To Deeply Cleanse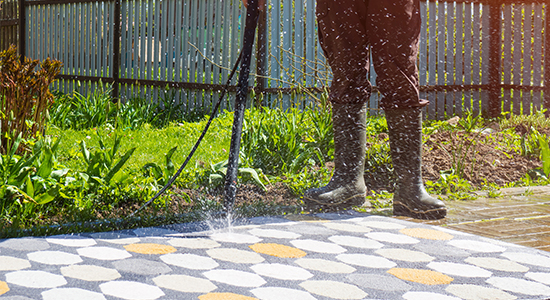 You can use a pressure washer or usual garden hose to deeply cleanse dirt out of the rug. Hang the rug in a fence or on an inclined surface like a driveway to make the water drain quickly. Set the pressure washer to the lowest pressure. Start power washing to remove deeply seeped dirt, pet hairs, and mild spills.
Spot Cleaning Stains From Outdoor Rug
As outdoor rugs are mostly subjected to exterior activities. It is obvious to encounter spillage and stains here and there. It is better to address the spill soon as you confront it. Choose a harsh cleaning method in case the spill has dried out in the rug.
Removing Fresh Spills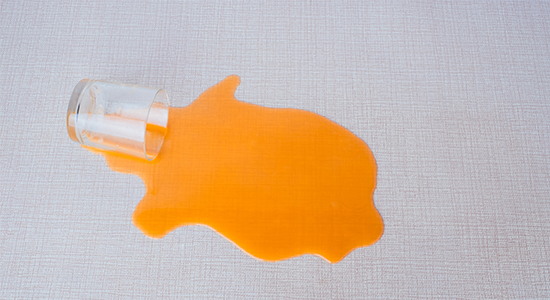 Work on the fresh spills like wine, juice, food, oil, or any spills before it sets in the rug fibers. Always remember to blot the surface with a clean cloth or a microfiber towel. Avoid scrubbing the spill when it is fresh. This will smear and spread the stain from the damaged spot.
Apply mild natural detergent and water cleanser to wipe the spill. This solution is applicable in almost every mild staining or greasy stain you might face. Also, it is easy to access in any household. Make sure to test the cleaning agent in a small patch to make sure it will not damage the carpet.
Steps:
After blotting the stain, prepare a solution of mild detergent and water in a bucket.
Dip a soft sponge or a brush to scrub into the damaged area.
Let it sit for a few minutes and rinse it with water. You can use a garden hose or bucket to do so.
Roll the rug and place it in an upright position, so that the water would drain easily.
Dry it in the sun at last. Remember to flip the opposite side when the front part has dried out.
Eliminating Stubborn stains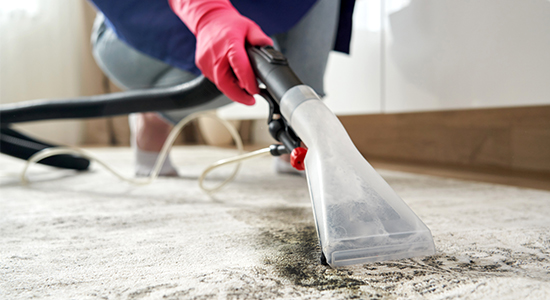 Sometimes, you may not notice spills and grease stains on carpet until it has dried out. In such a scenario, only scrubbing the rug with only dish soap and water will not show results. You can go for vinegar, baking soda, or club soda as cleaning agents.
You can apply Vinegar and baking soda method to remove stubborn stains like dried juice, ketchup, or wine spills. Follow these steps to remove the stains.
Steps:
Sprinkle baking soda onto the stained area.
Dip a clean cloth into the white vinegar and dab the stain out from the rug.
Rinse it thoroughly with a garden hose.
Make sure all the particles of baking soda have been removed from the surface.
Dry it in the sunlight afterward.
There is another method to eliminate stubborn stains. Utilize club soda also known as sparkling water to get rid of the stain. Soda water has the ability to remove the dried stained color from the surface.
Steps:
Blot the area with a clean cloth.
Use a separate cloth and dip it into club soda.
Blot the blemished area.
Keep blotting until the stain is gone.
Rinse it finally with clean water.
Get Rid Of Sticky stains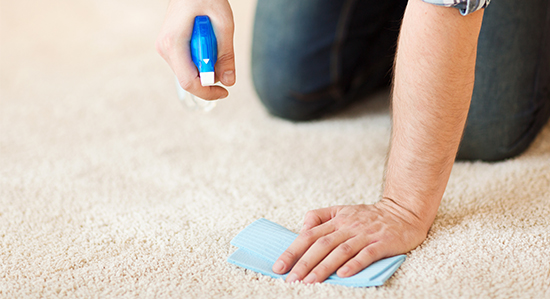 Sticky things like lollipops, chewing gum, or slime on carpet can be tough to remove when stuck into its fibers. Use an ice pack or ice to harden the gum.
Steps:
Scrape as much as gum with a blunt scraper.
Place the ice pack or ice on the sticky stain.
Let it sit for a few minutes.
Pull it off if it hardens.
Rinse away the extra residue with warm water and mild soap.
Wash soapy residue by using a garden hose or pressure.
Dealing With Mold, mildew, and Moss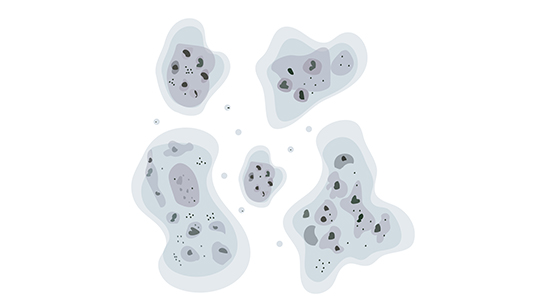 Outdoor rugs are usually mold and mildew-resistant, but excess dirt remaining for a long duration can grow mold. It is tough to remove this stain from carpets. So, it is okay to move forward to harsh cleaning like bleach.
If you want to use the bleach method, make sure you are using it in a ventilated area. Also, use safety gear like gloves and a mask to save your skin. Plus, do not mix bleach with any other cleaning agents.
Steps:
Mix 10 ml of bleach in 1 liter of water and pour it into a spray bottle.
Spray the mixture onto the stain. Let it sit for a few minutes.
Utilize a garden hose or a bucket to rinse it with water.
Dry the rug directly into the sun.
You can also choose commercial carpet cleaners that are available in hardware stores. Remember to read the labels before you purchase them. Only purchase it if it is applicable to outdoor rugs. Synthetic fiber rugs usually do not get affected by the diluted acidic cleanser. Still, it is a good idea to do a patch test before applying the product. Spray the cleaner into the stain and wait for a few minutes. Repeat until the stain is gone.
Getting Rid of The Smell Out of The Outdoor Rug
Even though if you have permanently removed stains and spills from the outdoor rug. Some lingering odors of urine, vomit and other stains can be stressful and not welcoming. For this issue, you can:
Spray deodorant on the rug. But some commercial deodorant smells do not last.
Spray baking soda on the rug and let it sit for a few minutes. Rinse away the powder after. Baking soda is a natural deodorizer, so mostly it works to eliminate bad odor from the rug.
Make a solution of 50:50 vinegar and water and put it into a spray bottle. Spray the area where the odor is coming from to get away from the odor.
Is It Necessary to Store The Rugs in The Winter Season?
Since winter and monsoon season comes with heavy snow and rain. It is necessary to store the rugs inside. Even though outdoor rugs are made to resist moisture. It is not totally moisture-free. The heavy rain and snow accumulation on the rug can damage the rug Mold and mildew can also build up on the carpet.
Therefore, you should store it inside before the winter season starts. Roll your rug and store it until the next spring begins.