Is it even Christmas if our house isn't adorned with some beautiful lights displays and incredible decorations? Only after we see lights inside and outside the houses, we do start feeling merry.
Even though Christmas lights are the first thing that gets us into the festive vibes. Putting on the lights all over the house can be a little tedious especially when it's frigid outside. So why not hang lights just around our windows and doors?
Precautions
To avoid potential safety issues, only use lights and wires designed for outdoor use.
Only plug extension cables into Ground Fault Interrupter (GFI) outlets.
Check for the UL mark on the package of extension cords and lights, UL mark means they are approved by Underwriters Laboratories as safe to use electrical equipment.
Supplies Needed
Ladder
Measuring tape
Outdoor extension cords
light clips or Staple guns
How to Hang Christmas Lights Around Windows
Let's take a look at some easy ways to get that perfect or ideal lighting and complete the installation process.
Measure the perimeters of the windows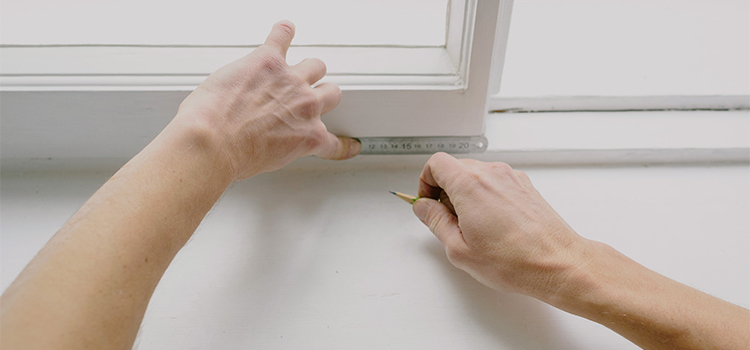 Measure the length of all the windows where you wish to hang the lights with a measuring tape. Make a note of the measurement. You can now figure out how many light strands and hooks you'll need to completely cover the window. If you plan to buy plug-in lights or non-battery-driven lights, make sure to add a few inches to your lighting measurement because the lights will need to be connected to a power source.
Selecting the Perfect Lights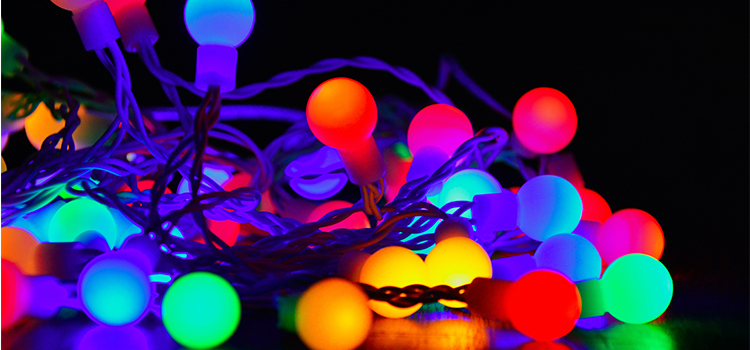 Getting the perfect light that goes well with your window is the first job. There are endless numbers of Christmas lights available based on bulb size, type, color, and power source that you will be spoiled for choice. Some of our top recommendations are:
Led Lights
LED lights are the best since they have a low heat output, meaning the bulb does not heat up when turned on. Their outer shells are constructed of plastic rather than glass, so they won't break easily and will last a long time. They use less electricity as well. LED Christmas lights come in a wide range of shapes, patterns, and colors, as well as color-changing lights.
Incandescent Lights
Incandescent lights are small in size and their bulbs are made up of glass. They are less expensive compared to LED lights but they consume more electricity.
The bulbs of incandescent lamps are slightly orange and this light gives that antique vintage look so people prefer this light.
Battery Operated or Solar Lights
The best part about using these lights is that you don't have to worry about extension cords or access to the standard electrical outlet. As they operate either from the battery or solar power. The major drawback of these lights is that they are usually only available in light colors. So they might not be the ideal suit if you're searching for some bright lighting.
Mini Lights or C6 Light Bulbs
Mini lights or C6 lights are usually in very small sizes and are most frequently used as Christmas lights. They are usually in the shape of candles or tiny thin strawberries. Mini lights are very cheap to buy. And their small traditional bulbs give a very classic look without being overwhelming in our windows.
Some other common lights used for decorative purposes are Icicles lights, Snowflakes lights, Net lights, and Rope Lights.
Tips
The lights themselves will look better if you match the wires with your window color.
It is advised to place lights together they will look bright and the wire will remain unnoticed.
To prevent overwhelming your windows, choose small lights.
For a vivid, blueish tint, try LED lights.
For a traditional aesthetic and simple looks choose white lights.
Opt for multiple color lights if you want a bold look
For a low-maintenance option, hang lights on the inside of your windows.
To create a consistent aesthetic, use the same light type in your windows
Selecting the Perfect Clips or Hooks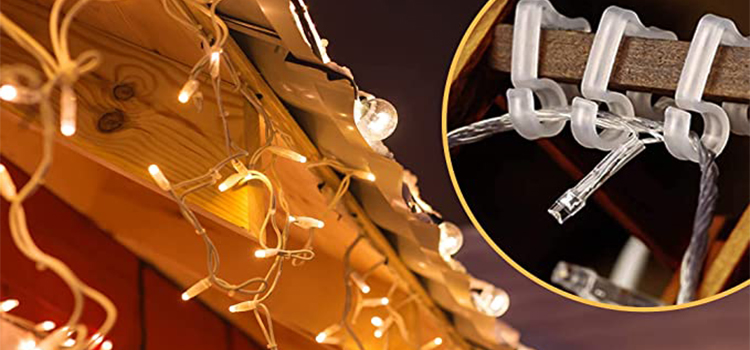 You can't go hammering nails everywhere in your windows to hang lights. They can cause harm to your walls. You can avoid this by using readily accessible plastic hooks, clips, or even draping techniques. They're simple to set up and takedown, and they won't damage your wall.
Adhesive Clips
These types of clips are made up of plastic and are very easy to put on and take them off. All you have to do is peel off the plastic on the backside of such clips and paste them on where you want to. But they won't work on concrete, brick, or stucco.
Cup Hooks
You can simply screw these types of hooks into your wall. They work as a nail you can even place some heavy lights on them. They can be fixed firmly in place on either side. The damage to your wall will be minimal leaving merely a little invisible dot.
S-shaped Gutter Hooks
If there is a gutter right above your window why not make the most use of it. These S-shaped gutter hooks are multi-purpose light clips and work wonderfully work for connecting Christmas lights to your gutter and allowing you to tightly hang the lights around the corners.
Installing the Lights and Clips
Once you are done selecting the perfect light and hooks. You can now begin the installation process.
Lights for Inside Window
Start by cleaning the windows. It will be easier to glue the clips if there is no dust on the surface.
You will need around 8-10 clips for each window
Place the adhesive clips inside the window frame.
Remove the backing of the clips and paste the flat back end on the window
Maintain the gap of 8-10 inches between the clips
Let the clips set on the window for at least an hour.
Now locate the nearest electrical outlet from your window.
Measure the distance between the window to the electrical outlet to know how long an extension cord is needed.
Detangle the lights if needed and test each strand of lights by plugging them into an outlet.
Take the first strand of light at the bottom corner of a window and bring it upward.
Squeeze the light's wires into each clip.
Wrap it all along with the window frame until it's finished.
If required, add clips and ensure that the light is held tight around the clips.
Attempt to align all of the light bulbs in the same direction.
Bring the extension cord once you are done placing the lights.
Plugin the lights in extension cords
And bingo our Christmas lights are on
Lights for Outside Window
Battery operated or solar lights are best for outside windows
Use gutter hooks or cup hooks as they are easy to place in the outside window
If you have battery-operated lights use them for outside as you don't have to worry about extension
Get a ladder if needed and place it firmly or have someone hold the ladder securely
Place the gutter hooks or cup hooks around the window maintaining an 8-7 inches gap.
Ensure there is at least one clip in each corner
Now place the light and start from the bottom of the window
Fix the light strand around the clips lightly else it will start to sag
Only use exterior extension cords
Plugin the extension only in GFI outlets to prevent damage.
Safely come down the ladder and turn on the lights.
You have your Christmas lights ready.
Adding Some Extra Decoration to Your Windows
Add some candles near your window for some cozy vibes
Bring your Christmas tree near the window
Place some flowers near the windows
Bring a set of Votive near your window
Place a mini lighting Christmas tree
You can add the window box outside the window and add some decorations there
Wreaths can be used to place in your windows too
Add some snowflakes lights and stickers to your window
Place a sphere of lights in the windows
Finally,
You can go all creative this Christmas with your lighting. To create the finest light display use the tips mentioned above. There are so many options available for beautiful lighting you will be spoiled for choice. You may have to do a little homework first to find the perfect lights that will enhance the beauty of your windows and fill it with them. Make your Christmas, even more, merrier with some splendid lights all-around your house.