The basement is the overlooked space in the house. It is usually used as a storage space. Apart from that, the basement can offer so much more than just storing things. You can add a functional and comfortable bathroom to make your basement look more lively.
If you have a large family, a second bathroom in the basement will be simpler to use. Use it as a fallback if you're running late for work or school.
Various interesting ideas can make your basement a usable space from full to walk-in bathrooms. You can choose one that is budget-friendly and according to your preference.
Bathroom Ideas for Your Basement
From budget-friendly, simple bathrooms to chic and sophisticated bathrooms. Here are some ideas that you might love according to your taste.
Beach Themed Bathroom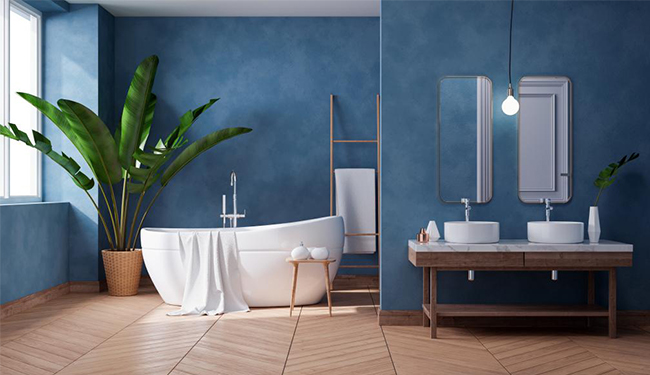 The soothing colors of a beach-themed bathroom are very pleasant for the eyes. You can choose calming blue and mint green to enhance the beach look. Choose bright colors like orange, coral, and lime if you don't go for light colors. Add wallpapers like corals, ships, fish, or seashells for a more breezy look.
Go for subway tiles with blue or white colors for beach vibes. Include decorative items like tropical plants, bamboo shoots, shells, and a picture frame.
Farmhouse Design Bathroom
The farmhouse bathroom is the country style with the appeal of regional style and modern mix. Suppose you love simplicity in your bathroom space. It is the right idea for your basement bathroom. The major features of this design bathroom include.
Barn lighting
Wall paneling
Sliding barn doors
Wire baskets
Distressed paints
Open ceilings
Trough sinks
Wood accessories
Wood flooring
Vintage drawer pulls
Shaker-style vanity
Go for a natural and simple color palette, neutral and classic colors like white. This color gives a calm and unique feel to the bathroom. Also, add natural and landscape wall pictures that enhance the countryside-style bathroom design.
Industrial Style Bathroom
Factories and industries inspire industrial bathroom design. Therefore its color choice is very minimalistic. But the features include hardcore materials like pipes, ducts, tubes, and wires that cover the industry-inspired design. The key features and materials of this style of the bathroom include:
Brick, concrete, cinder blocks, and metals for raw materials.
Metal Mirrors
Exposed Lighting
Hefty sliding door
Exposed pipes and ducts
Trough and basin sinks
Rustic Style Bathroom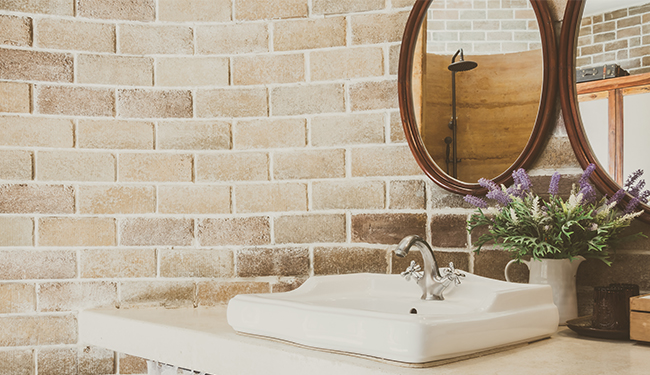 The rustic style bathroom design is somewhat similar to a farmhouse style bathroom. As it includes natural beauty with wood floor tiles like hardwood, bamboo, and engineered and fall color choices. With beautiful rug styles, this bathroom style will give a welcoming feel to your basement. The key feature of rustic bathroom design includes:
Natural flooring wood tiles
Stone or copper sink
Antique accessories
Copper ot Japanese-style tub
Natural rugs
Go for simple and minimalistic color hues that are classy simultaneously. Warm colors that will accompany a rustic basement bathroom.
Traditional Style Bathroom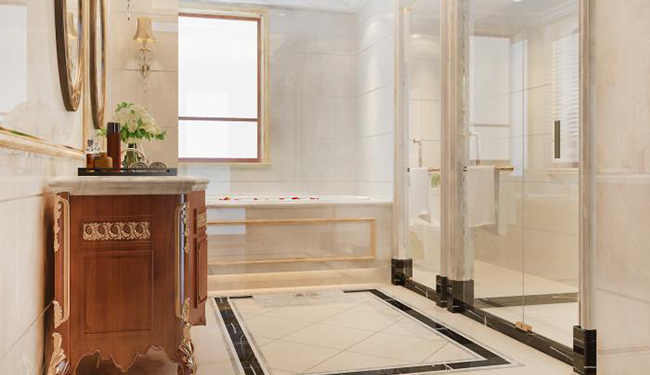 The classic traditional bathroom design is one of the popular styles. The classic approach maintains the delicate surfaces with soft and neutral color choices. It includes decorative details that maintain the traditional and vintage look. The standard features of this bathroom comprise:
A simple piece of a pedestal sink.
Classic washstand
Vintage wallpapers
Clawfoot tub
Angular or curved cross handle faucets
Victorian design slipper tub
A beautiful chandelier
Shower ring
Transitional Design Bathroom
A transitional bathroom is a mixture of traditional and modern designs. It is popularly known for its perfectly balanced designs. It is neither too contemporary nor traditional. The color pattern includes white, gray, aqua, and beige shades. Other features comprise:
Marble and quartz wall features
Shaker style vanity
Sleek under-mount sink
Subway tiles
Neutral rugs
Flower vases and paintings
Chandeliers
Contemporary-based basement bathroom
The contemporary bathroom design is completely different from the traditional ones. The clean lines and symmetrical patterns make this design bathroom popular among homeowners. It emphasizes making the bathroom clutter-free with more open spaces. The key features of contemporary-based bathrooms include minimalist faucets, glass doors in showers, sleek vanity, natural stone surfaces and walls, and stainless steel. It also comprises wooden cabinets.
Modern Basement Bathroom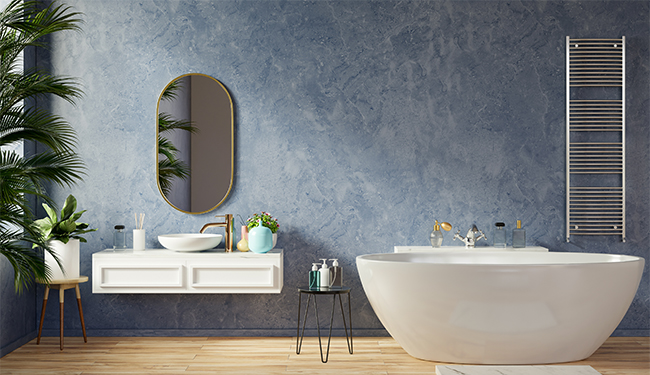 The emphasis of the modern design is on keeping the bathroom tidy and clutter-free while maintaining its functionality. It concentrates on creating simple features. Black, white, gray, and light brown make up most of the color palette. The main key features of a modern bathroom are its natural material choices like natural stone, wood, and glass. The walk-in shower and freestanding bathtub are other main features. The floating vanities help save space and complement the main point of the modern bathroom.
Mediterranean Bathroom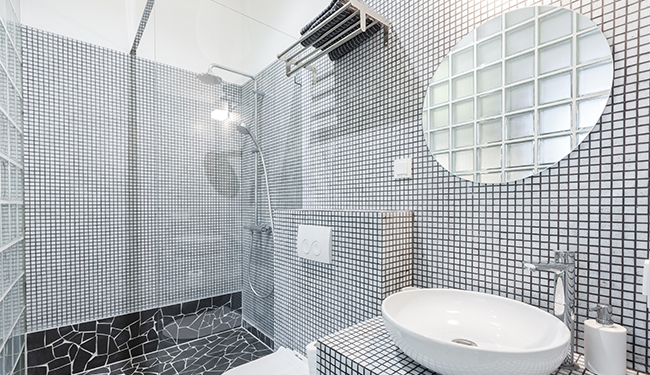 The earthy look inspires the Mediterranean bathroom. This style of bathroom's antique and old-world feel incorporates the mosaic, terracotta, or colorful tiles. The main features of this type of bathroom are ornate lighting, large windows and mirrors, white-washed walls, and vessel sinks. A classy jacuzzi will also complement the Mediterranean style. The color shades must be warm and earthy; go for neutral white and wood color.
Craftsman Style Bathroom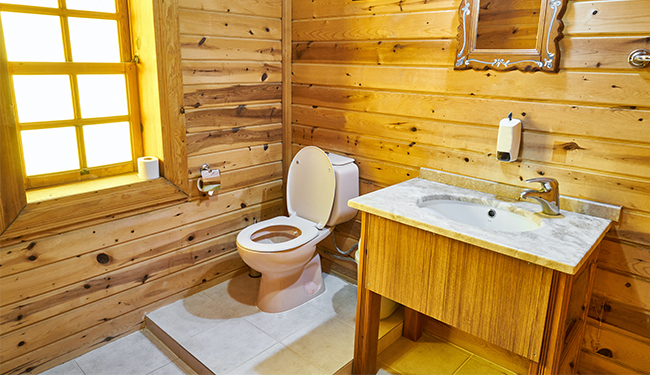 Like the name, the craftsman's design bathroom is inspired by natural wood furniture and wood flooring. It emphasizes craftsmanship and artistic details like high-quality wood used to make the windows, cabinets, and drawers. It has a homey feel and is practical. But, make sure to seal the wood floor to avoid mold growth in the basement.
The main features of this bathroom are handcrafted tiles, natural wood furniture, shaker style vanity, and warm lighting. The color shade includes warm and earthy colors, from green to warm wood colors.
Children-friendly design basement bathroom
Kids love bathrooms with fun colors and creativity. Suppose you want to dedicate the basement bathroom to your kid. There are various ideas that your children will love while maintaining their safety.
You can use printed wallpapers of different animals or pictures of their favorite animated characters painted in vibrant colors, which are fun and interesting for kids. In the case of accessories, you can use inspiring quote paintings, colorful curtains, and interesting artwork mirrors.
Functionality is also very important for kids. Install cabinets that are reachable to the children. Make sure it does not have sharp objects. Also, do not forget to install long mirrors that are easier for you and your kid to use. Include a toothbrush container and towel handlebar that is sturdy and strong.
Laundry and Bathroom Combination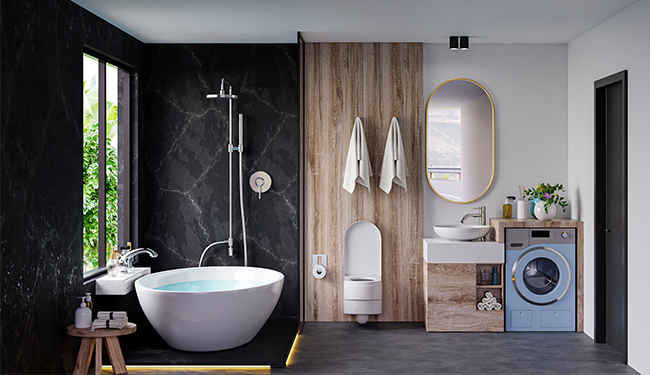 You can combine laundry and bathroom with the space available in the basement. It is a great way to maximize the functionality of the basement. You can add a showerhead with a bathtub. Also, utilize the space, including the over-the-door iron board. But the layouts can be confusing.
Monochrome Basement Bathroom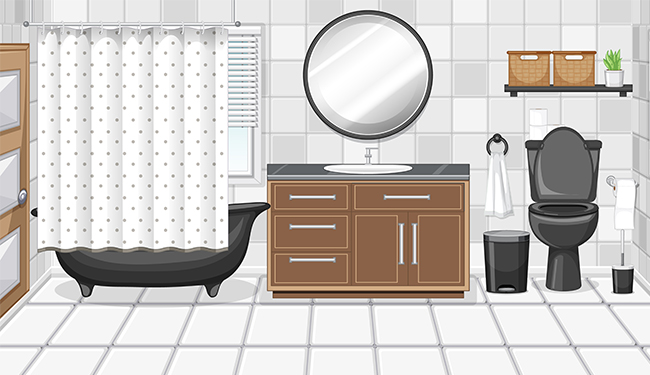 The black and white combination in the monochrome design bathroom is a stylish way to update the basement bathroom. Choose white tiles for half of the bathroom design. And select black or darker tiles for the floor or walls. You can also go for black vanity and faucets. And make the rest of the room white.
Spa-inspired Bathroom
You can bring the spa feel to your basement bathroom with some makeovers. Choose pale and neutral colors to make your basement feel very tranquil. Other color choices are cream, gray, and white. Natural stones like granite and marble in the bathroom can also complement this style of bathroom. The natural choice of wood and stone will change the look of the basement. The Walk-in shower and white wall tiles will give the inspiration of a spa as well.
Bathroom for Small Space Bathroom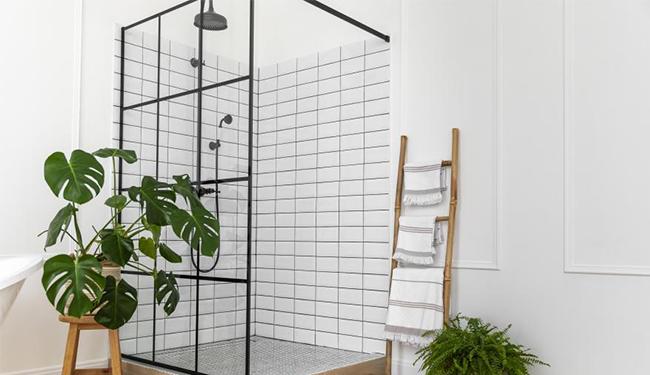 Most of the basements do not have an open space and outside lights. Still, you can adjust to make a functional bathroom in that space. Utilize the basement space by making a good bathroom. Use walk-in showers instead of a tub. The bathing tub can cover a lot of space. Use wall shelves to store bathroom accessories like shampoo, toothbrushes, vases, or body lotions. The vibrant and loud curtains will assist in making the bathroom spacious and bring life to your boring basement.
For colors, choose all white to make the bathroom look open. It will also help the dark basement look bright and lively. Other vibrant colors like orange and red can make a boring room look happy and bright. Go for these colors if you do not prefer all-white shades.
Ideas for Renovating the Old Basement Bathroom
Suppose you are looking forward to renovating and redecorating the old basement floor. There are a lot of creative ideas, from getting new tiles to creative wallpapers. Make a unique design to enhance the basement bathroom. Here are some ideas you can select that are feasible for the basement.
Install New Tiles in Your Basement Bathroom
You can renovate your old basement bathroom with unique tiles. With these, you can make the bathroom look trendy without even trying. Install the tiles on walls or floors according to your preference. There are various tiles with colors, patterns, finishes, and shapes. Here are some popular ones.
Graphic Tiles: It is a unique pattern of tiles that can make your basement stylish without effort. With various bright colors, it has made its way to many households. It is popularly used not only in bathrooms but in other living spaces too.
Matte Finish Tiles: The pristine look of matte finish tiles comes with added benefits. It is a good tile for a busy washroom. As it does not smudges and watermarks easily. It has a calm and soothing reflection that gives a classy look to the bathroom.
Subway tiles: This is one of the common tiles used by homeowners. The rectangular shape of this tile gives the bathroom a spacious and elegant look. Additionally, it comes in different sizes, colors, and looks.
Neutral Tiles: This tile's relaxed and minimal style can give a calm look to the bathroom. Most homeowners popularly love gray, beige, and white.
Pebble tiles: This tile gives the bathroom a classy and beachy look. The pebble in the flooring is also useful to give a gentle massage while you shower.
Marble Tiles: Marble is the popular choice that gives an elegant and standard look in your restroom. But, you need to keep periodic maintenance of marble to ensure its durability.
Paint New Color To Bring Life In The Bathroom
Change the whole look of your basement bathroom by just painting it. The color describes the overall feel of the space. You can choose paint colors according to your style and personality. Choose bold and bright colors if you have a passionate personality. Go for low-key paint like white, mint green, and other light colors if you are a conservative and classic style. Also, light colors can make the small bathroom look big. You can use vibrant colors for the larger bathrooms.
Unique Wallpapers To Add Style
You can use many types of wallpaper to renovate the basement bathroom. Suppose you want to apply wallpaper that is easy to install; select vinyl wallpaper. It can be unpeeled at various times. From graphic wallpaper to floral ones, choose whichever looks good in the basement. Paper, grass cloth, fabric, wood, and paintable are other wallpapers you can apply.
Mirrors To change The Look Of Bathroom
The mirror is an important part of the bathroom. Small or big; whatever the size installing mirrors will make the bathroom look better. Change the whole look of your basement bathroom by adjusting the mirror.