There are a lot of great ideas to make your basement more functional. Among them, adding a laundry room happens to be one of the most popularly used setups for homeowners.
The basement laundry does not have to be boring and dark. The laundry room can be updated by making adjustments and giving it a fresh look. You can redesign the basement laundry with simple changes to the wall color, designs, and styles.
The main goal is to make the basement more spacious and clutter-free. If you have the right idea, you can make that happen depending on your preferences, budget, and basement space.
Basement Laundry Room Ideas
Whether you want to remodel the old basement laundry room or set up a new laundry area, here are some amazing ideas to give a fresh makeover to your boring basement.
Natural Concept Laundry Room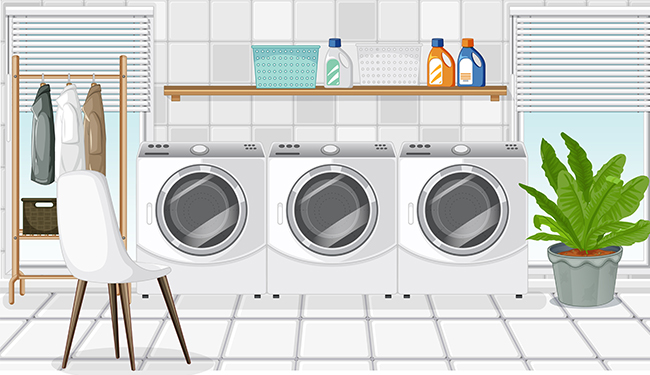 Add natural beauty to bring the exterior nature into the basement laundry. Use wooden sheets and natural stones like marble, granite, or limestone. For wall colors, go for white, wood color, or beige to match the wooden furniture. Position a wooden shelf to place laundry items. A house plant will add a fresh look to the basement.
Old-Fashioned Design Basement Laundry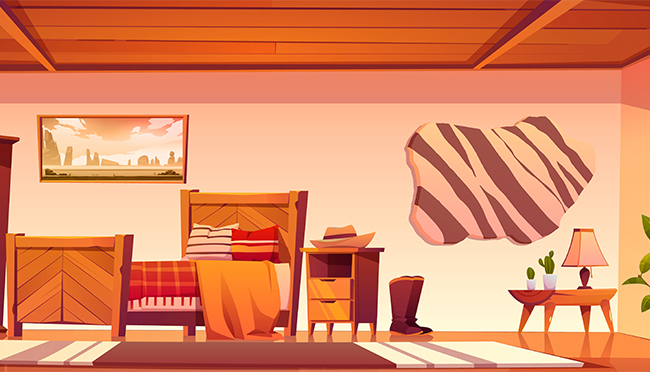 The vintage and rustic look can add a classy feel to your laundry area. Add rustic pattern wood cabinets with the same design flooring choice. The combination can make the laundry take back to the past. You can add antique accessories to give it a more old fashion feel.
Industrial-Style Basement Laundry Room
Most homeowners are familiar with the industrial style's raw, unpolished aesthetic. Neutral hues like brown, beige, white, and black are used in this style.
Install furniture with basic, clean lines. Concrete flooring with raw wooden textures is another main feature of this design. You can try Exposed pipes and ducts for enhancement.
Go for hanging lights for the factory feel. For decors, metals, pipe bookshelves, or DIY artwork from machine parts will do the work.
Rustic Design for the Laundry Basement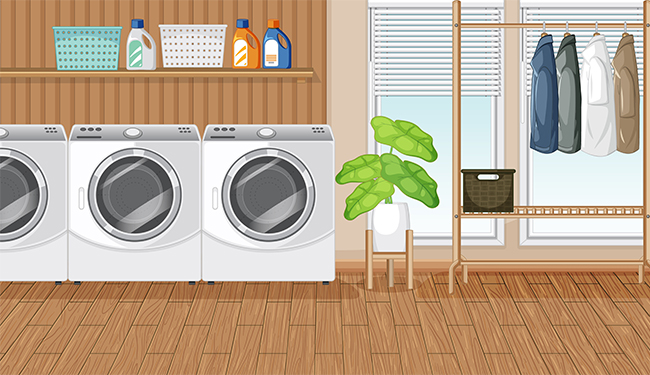 The rustic design for the laundry basement is a natural and casual style. Invest in natural wood cabinets and other furniture. Go for deep and natural colors like beige, brown, gray, or fall-inspired, which will complement the natural beauty. Use handmade accessories and decors as well. It is the perfect style if you love earthy design in your house. Additionally, it is easy to create.
Farmhouse Design Laundry Room in the Basement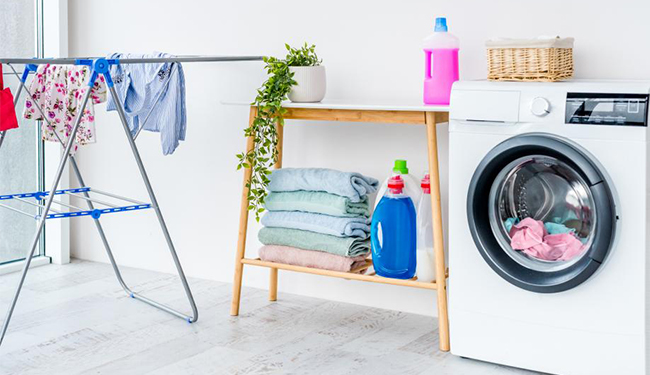 Another excellent concept for a laundry room is using neutral paint colors and farmhouse-style accents.
With a few straightforward adjustments to color and furnishings, you may transform your basement into a lovely laundry room.
Start by switching out the plastic bins for ones made of natural jute. Add green plants with neutral-colored pots. Install beautiful white subway tile and paint neutral colors like white, mint green, or aqua blue to add natural beauty.
Floating wooden cabinets, apron front sink, ship-lap, and light fixtures are other features of farmhouse design laundry rooms.
Small Basement Laundry Room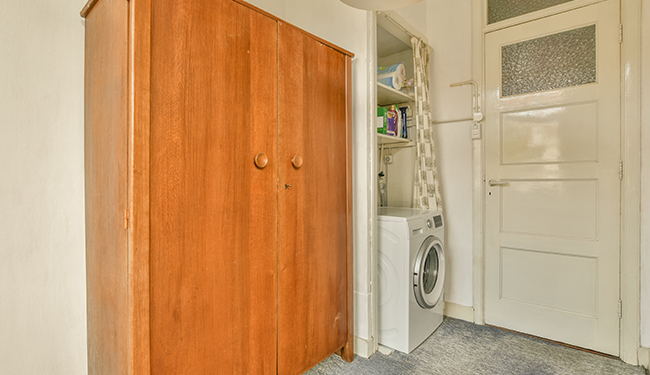 The washer and dryer easily squeeze anywhere in the small basement. Therefore it is not a huge issue to create a small laundry room in the basement. Stack the washer and dryer on top of one another. Install vertical cabinets and cupboards to store detergent and other laundry items.
Laundry Room in Basement for Large Space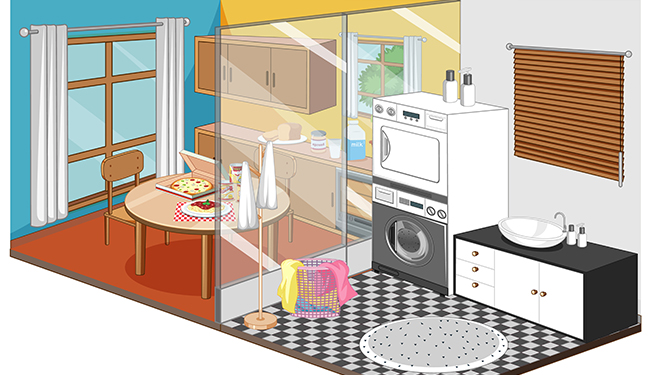 Utilize the whole space of the basement with packed items like cabinets and shelves. Also, tuck the washer and dryer into one space. And use high shelves, cupboards, racks for putting dry clothes, built-in ironing, and flat boards in other empty spaces. Air purifiers and a humidifier can be added for ventilation in the basement. Add a stylish closet to have your clothes hanging gracefully. You can also add a dining place in the open space as well. Or make a living or resting room.
Aisle-Based Laundry for Compact Basement
You can try aisle-based design for your small basement and still make it look luxurious. Place the washer and dryer on one side of the room. And add cabinets and storage cupboards on the opposite side. The vertical arrangement will save space while giving the full functionality of the laundry.
Bathroom and Laundry Combination
Another great idea to utilize the small space of the basement is to combine the bathroom and the laundry. Adjust the walk-in shower and the washer side by side. It is tricky but will increase the space function. Use wall paints that coordinate with the small space. Use light colors like white and mint to make the space look bigger.
Hidden Basement Laundry Design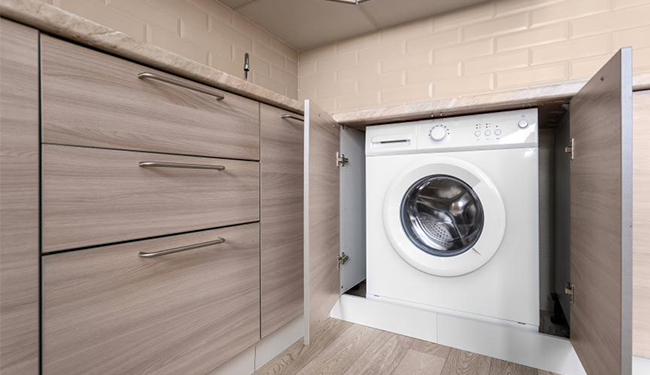 You need built-in cabinets that can adjust the washer and drawer inside. It is a great way to use the basement space. Use another cabinet or drawer to store clothes and other laundry products. Add a sink near the hidden cabinets and place paintings to make it look beautiful.
Children-Friendly Basement Laundry Design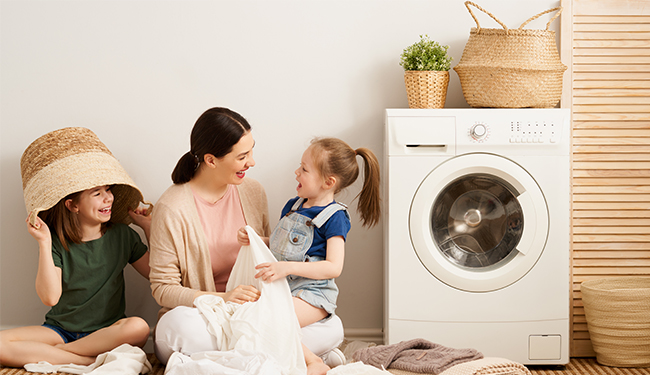 Kids love to follow around wherever you go. The combination of a playroom and laundry room is perfect if you have playful children. Make a small space with toys and books that you and your kids can enjoy while doing the laundry.
Wood and Concrete Luxury Basement Laundry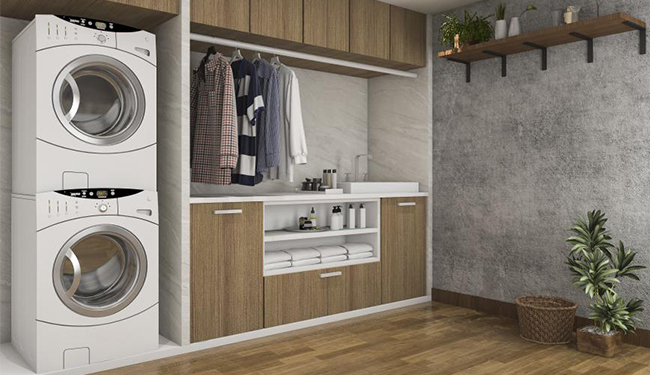 The beautiful and luxurious appearance of the wood and concrete combination is unbeatable. Over the washer, include some wooden cabinets and shelves. Additionally, surround the sink walls with ceramic tiles.
Unfinished Basement Laundry Room
You can take advantage of your old unfinished basement and turn it into a functional laundry space. Position the washing machine and dryer and add small cabinets to utilize the room. The raw ceiling may look industrial style.
Ideas for Renovating the Basement Laundry Room
There are certain changes you can do to makeover your old basement laundry room, From changing tiles to painting new colors. Here are a few ideas that you can adopt to make your basement laundry look fresh.
Change the Flooring Tiles
The laundry room is prone to moisture damage. The water from the washing machine and other sources is always present in the basement laundry room. So, opt for protective and attractive flooring tiles that can complement the basement room. Various types of tiles will look aesthetically pleasing in the basement.
Luxury Vinyl Tile: This tile has the benefits of a protective layer. This coating makes the flooring stain-proof, waterproof, and dent resistant. It is efficient for the high foot traffic space like a laundry room. The color choice of this tile comes in white, beige, red, wood look, orange, and yellow. You can choose the color according to your preference. Go for light colors like white and beige if the basement is small.
Sheet Vinyl: Sheet vinyl flooring is a waterproof and durable material. If you are looking for a budget-friendly flooring choice, this is the one for you. You can browse many designs and colors of sheet vinyl, from light colors like white and beige to wood-like colors and bright colors and red and orange. You can choose any design according to your taste.
Natural Stone tiles: Natural stones like marble, slate, limestone, and granite are one of the common stones used for floors. Suppose you want a classic and luxurious look for your basement. Then, you can select natural stone tiles. It is comparatively more expensive than other flooring choices.
Textured tiles: The textured tiles provide a stylish look with the benefits of a non-slip floor. It has recently become popular among homeowners. It looks like natural stone that is complementary to laundry rooms.
Ceramic or porcelain tiles: Despite appearances, porcelain and ceramic tiles are not the same. The porcelain tiles look like a copy of natural stones like granite and marble. At the same time, the ceramic tiles have a solid color and pattern. In the case of looks, both the tiles have eye-catching beauty that would look classy.
Invest in Good Lighting
The correct lighting plays an important role in making a dark bathroom look bright and lively. As the basement is an underground space of the house. It doesn't get natural light from anywhere. Therefore, opt for smart ideas like overhead and LED lighting. Also, place different mirrors so the light will reflect everywhere in the room. Go for bright lighting if the wall colors are dark, like dark brown or black. Some of the popular choices for laundry lighting are:
Accent lights
Pendant lights
Chandelier
Upgrade the Wall Colors
The color choice of the basement wall can change the space's whole look. Light colors like white, mint and aqua blue can make a small space look bigger. At the same time, bright colors like red, yellow, or orange give you an energetic and happy vibe. Select high-quality waterproof paint that will save the basement ceiling from mold.
Add Shelves and Other Storage Cabinets
Invest in shelves and clothing cabinets and place them over the washing machine. It comes in different colors and designs that you can adjust with the laundry room. Some of the popular cabinet choices for laundry are:
Wall cabinets
Open shelf cabinets
Base cabinets
Mobile storage cabinets
Invest in Accessories
The washer and cabinets are part of the laundry room. But, other than that, you can add a flower vase, beautiful rugs, wall paintings, and antique and other decor items to enhance the room.
Improve the Walls With Wallpapers
You can have a little fun with the walls and add interesting wallpapers that reveal your true personality. Or you can add wallpapers that will match the roof or the floor.